We are now more than halfway through the NFL season, and we've already seen a slew of injuries and record-setting performances. Several franchises have set personal records so far, including the impressive start for the often criticized Cincinnati Bengals. I mean, will they ever win a playoff game?!
But no matter how exciting this roller coaster of a season might be, there's no denying that this year's commercial breaks are painful to sit through. Even if you've only tuned in to watch one-quarter of football this year you've undoubtedly seen the fantasy football ads by DraftKings and FanDuel that play every other 30 seconds.
It seems that these two entities took over the sporting world overnight, initiating an all-out blitz to invade every TV set in every household in America. "Last September, FanDuel said it was signing 20,000 to 30,000 players every day. Major League Baseball, the N.B.A. and companies like Comcast, NBC and Google are among its investors. Nearly every N.F.L. team has a sponsorship deal with DraftKings or FanDuel, and two powerful N.F.L. owners — Jerry Jones of the Dallas Cowboys and Robert K. Kraft of the New England Patriots — have equity stakes in the companies" (Bogdanich et al., 2015).
Fantasy Football for Newbies
For those of you who pay little attention to fantasy football and the overwhelming influence it has on the sports world, FanDuel and DraftKings are the two largest players in daily fantasy sports. Here's how it works: you assemble a team of star athletes from one particular sport, and you line your set of players up against an opponent's set of star athletes. The team that has the most points at the end of the contest wins bragging rights, and in some cases, large amounts of money.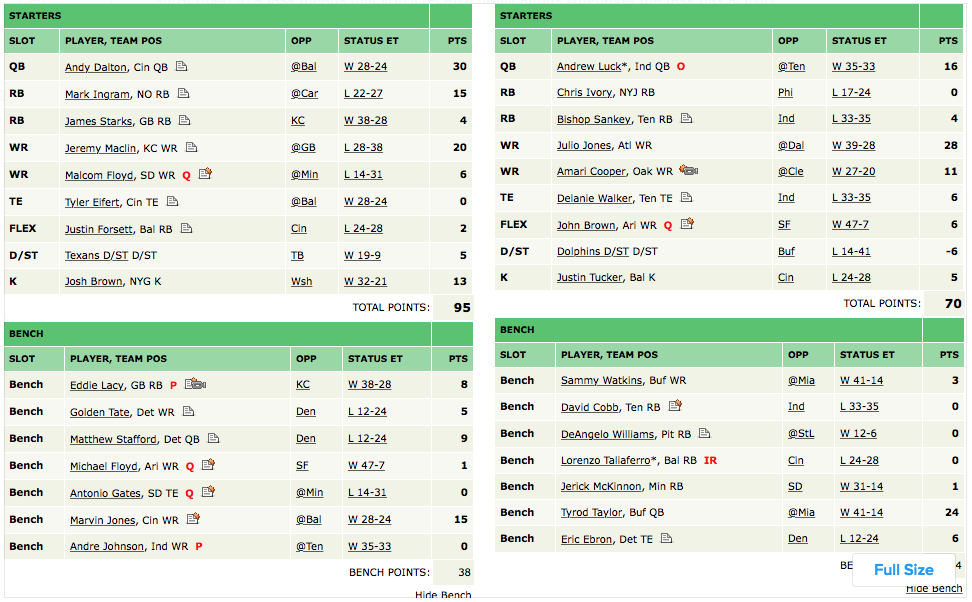 "According to the Fantasy Sports Trade Association, 33 million Americans played fantasy football in 2014, a number that has swelled considerably in the past decade: The fantasy market has grown 11 percent year over year for the past five years, according to research firm IBISWorld" (Willens, 2015). Fantasy football is addicting to say the least – I know because I play in two leagues myself. The only catch to playing is that you never know for sure how your team is going to do. More often than not, you're rolling the dice and trying to make an educated guess on how you think a player is going to perform.
Some may call this gambling, but others disagree saying, "As enterprises, DraftKings and FanDuel are entirely legal; they accept wagers only on game statistics, not on who covers the spread" (Easterbrook, 2015). DraftKings and FanDuel argue that there is a definite distinction between gambling and the strategic play required in fantasy sports, as explained here. New York State attorney general, Eric T. Schneiderman, begs to differ. In early November Schneiderman, "ordered the two biggest daily fantasy sports companies, DraftKings and FanDuel, to stop accepting bets from New York residents, saying their games constituted illegal gambling under state law" (Bogdanich, Drape, & Williams, 2015).
A Massive Multibillion-Dollar Scheme
Draftkings and FanDuel are multibillion-dollar gaming companies that seemed to slip through the cracks of the legal system, but this recent ruling could prove to change the tide of fantasy sports moving forward. Mr. Schneiderman took a stand, stating, "It is clear that DraftKings and FanDuel are the leaders of a massive, multibillion-dollar scheme intended to evade the law and fleece sports fans across the country…today we have sent a clear message: not in New York, and not on my watch."
Soon following the recent limitations that were handed down to DraftKings and FanDuel, GamblingCompliance, an independent service that monitors gambling, reported that more than a dozen states were in the process of taking steps towards similar fantasy sports legislation.
Despite all of this debate, DraftKings and FanDuel continue to pollute national television with their commercials, promising immediate massive cash payouts and weekly winners.
Analyzing the Overtake-the-Airwaves Strategy
The amount of money that Draftkings and FanDuel have poured into advertising to date is astounding. So far this NFL season they have spent over $100 million each. Dishing out that much money has earned them top rankings in airtime bought each week this year. Their over-take-the-airwaves strategy is proving to be ineffective as public opinion on the ads has been overwhelmingly negative. Data from Brandwatch shows that "76 percent of FanDuel commercials were received negatively while DraftKings was just as hated with 75 percent of mentions tracking negatively" (Valinsky, 2015).
Interestingly enough, people don't hate the ads for the poor quality; viewers hate getting beaten over the head with fantasy football promotions every time they turn on the TV or listen to SiriusXM.
To put into perspective how much DraftKings and FanDuel have invested into advertisements, we can compare them to their airtime competitors. "The two DFS companies have been spending TV ad money at amounts rivaling Warner Bros, Geico, AT&T and Verizon, which generate nearly 500 times more revenue" (Baker, 2015).
According to a report written by Geoff Baker of the Seattle Times, DraftKings and FanDuel comprise nearly 95 percent of the DFS market, and FanDuel has held the number one spot in the industry since it was founded in 2009 with DraftKings close behind, if not surpassing them at this point. These aren't two companies who are struggling to work their way to the top, they are the main influencers in the market, and they know it.
So, What's Next for Our Airwaves?
More than likely, the ads will continue. But there may be a light at the end of the tunnel. "'In our opinion, this level of TV ad spend is unsustainable,' said a September report by Eilers Research, the boutique firm that has carried out a comprehensive independent study of the exploding industry. 'However, we do believe that each company has created significant brand value/awareness'" (Baker, 2015).
For those of you looking to test your luck on the site and become one of the chosen few to hoist up the giant check in a Boston sports bar, remember one thing: DraftKings and FanDuel are in the business to make money. And like any "good" gambling business model, the house only makes money if the players investing are losing money. It's that cut and dry.
And, as anyone who's been to Vegas knows…the house always wins.
References:
Baker, G. (2015, November 11). DraftKings and FanDuel spend millions on fantasy sports advertising, and it works.
Easterbrook, G. (2015, October 6). DraftKings and FanDuel Are Not Your Friends.
Krejcik, A. (2014). FSTA Winter Conference. Bold Predictions on the Daily Fantasy Sports Market, 36-36.
Rein In Online Fantasy Sports Gambling. (2015, October 4).
Valinsky, J. (2015, September 14). Everybody hated those DraftKings and FanDuel commercials, data shows – Digiday
Willens, M. (2015, September 15). DraftKings, FanDuel Ads Annoying NFL Fans As Fantasy Sports Titans Vie For New Players.
Up Next
The age of context-based information is upon us. Users are now expecting the right information to be automatically given to…