Laying the Foundation
On July 6th, Meta launched its Twitter rival, Threads. Since its launch, it has already acquired over 100 million users (source1). The app was built by Instagram and provides stark similarities to Twitter. Within 1 ½ hours of the app launching it reached 1 million users, making it the quickest social media platform to reach 1M users (source2). In order to create a Threads account, users must have an Instagram account. By default, all Instagram followers will transfer to your Threads account, making it easier to build a following on the app, especially for content creators. It's important to note that once you've created a Threads profile, you cannot delete it without also deleting your Instagram profile. Similar to Twitter, Threads gives users the ability to have real-time, text-based conversations with one another. "The idea is to hopefully build an open, friendly space for communities," Adam Mosseri, head of Instagram, said in an interview (source3). Threads is being touted by Meta executives as a more positive "public square" for communities "that never really embraced Twitter" (source4).
Meta wasted no time in creating a Twitter rival. Which is no surprise as they have been known to build their business off the backs of other apps — like Snapchat Stories and TikTok. What could set Threads apart from its competition is the early success the app has seen without the use of private messages or hashtags. The immediate impact to Twitter has been substantial, adding to an already difficult year with ownership changes, user limitations, and more. Cloudflare CEO Matthew Prince shared the below screenshot to Twitter showing that Twitter growth has tanked since April 2023, and more drastically in July when Threads officially launched.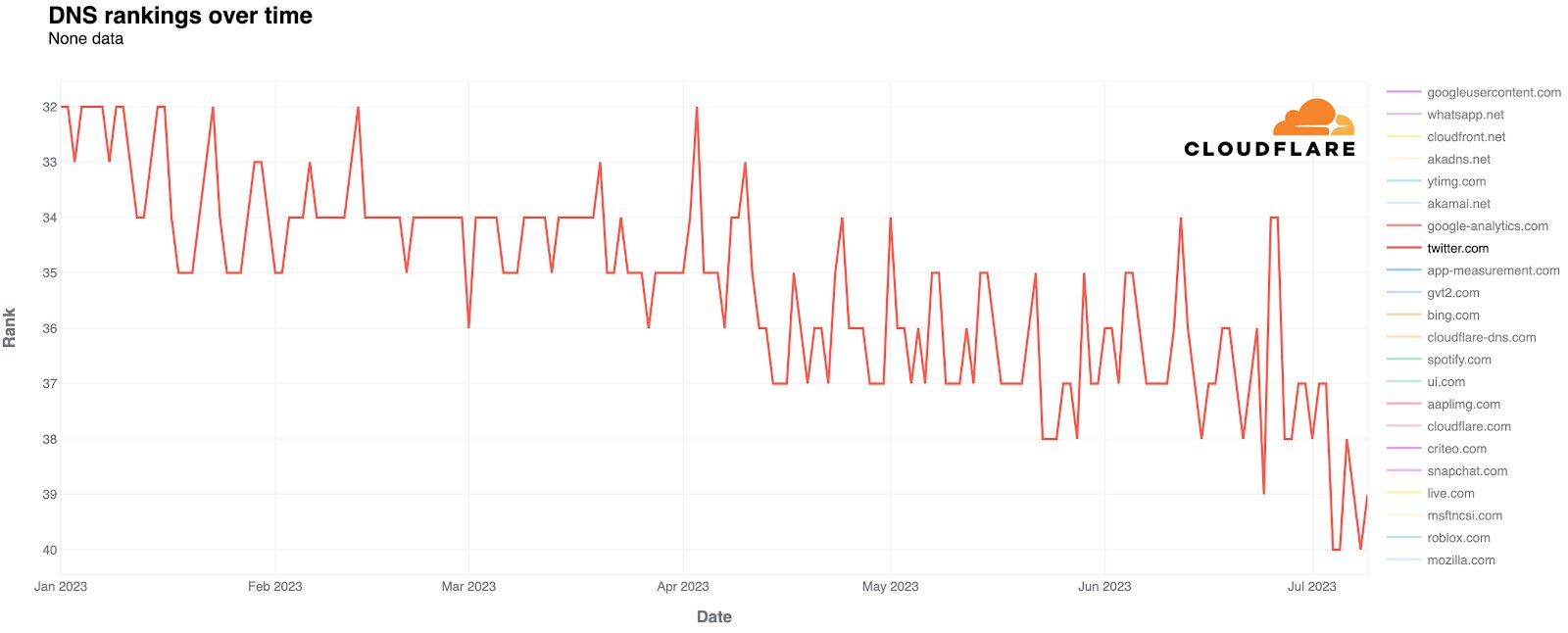 Privacy Concerns
Though the growth of Threads is undeniable, Meta as a whole still has challenges to overcome with the launch of this new platform. Data privacy concerns are top of mind for brands and consumers alike. The app was not able to launch in many countries because of data privacy laws put in place by the European Union. The EU is historically known for having stricter policies in terms of consumer privacy (source3). So exactly what data does the app collect? "Data linked to you includes your location, health and fitness information, browsing history, "sensitive information" and search history. This also includes your contact information such as physical address, email and phone number" (source5). Though a lot of this data is collected for the personalization ofads – Threads has not yet rolled out ads, though it is expected to be on the horizon.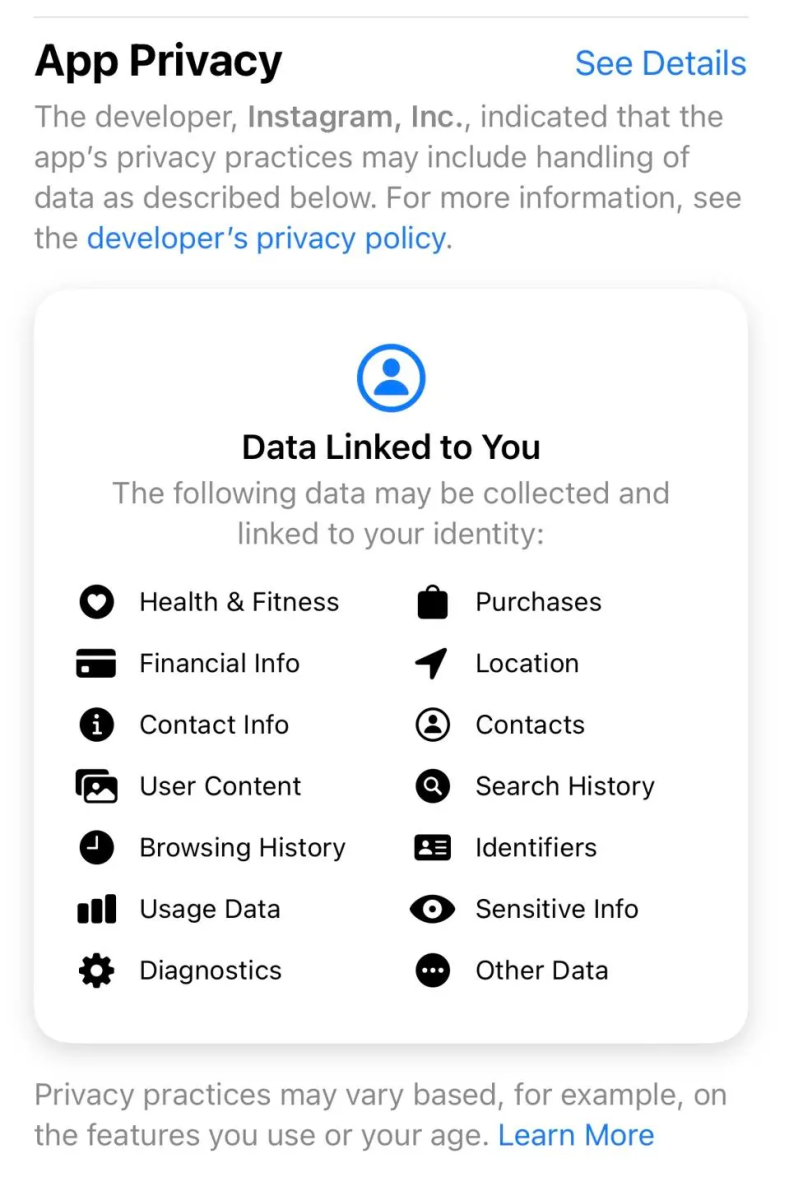 Should my business be on Threads
This begs the question, as a business, marketer, or advertiser, should you be on Threads? The answer is, it depends. If your business already has an Instagram account and your social media team has bandwidth to add another social platform to their efforts, then the answer is YES. Even if your team does not have the bandwidth to post regularly on Threads, having a profile created is a great place to start.
Having a presence on the platform in the early stages will help your brand stand out and find their voice on the platform. If you are on the fence about joining Threads, here are some things to consider:
Target Audience: Consider whether your target audience aligns with the user base of Threads. Since Threads emphasizes close relationships, it may not be the ideal platform for reaching a wide audience or for businesses that cater to a more general market. However, if your brand targets a specific demographic or niche community that is actively using Threads, it could be worth exploring.
Communication Style: Evaluate whether the messaging and communication style of Threads aligns with your brand's voice and objectives. Threads encourages personal, one-on-one or small group conversations rather than broadcasting messages to a large audience. If your brand emphasizes personalized, intimate interactions, Threads may be a suitable platform.

Privacy and Trust: Threads places a strong emphasis on privacy and control over personal information. If privacy is a core value for your brand or if your target audience values privacy, using Threads could align with those values. However, it's important to be transparent about how your brand will use the platform and handle user data to maintain trust.
Resources and Strategy: Assess whether you have the resources and capacity to effectively manage and maintain a Threads profile. Building and maintaining a presence on another platform requires time, effort, and consistency. Ensure you have a clear strategy in place for how you'll use Threads to achieve your marketing objectives and engage with your target audience effectively.
Ultimately, the decision to create a Threads profile for your brand depends on your specific circumstances, target audience, and marketing goals. Analyzing these factors, along with any available data on Threads usage and engagement within your target market, can help inform if Threads is the right place for your brand.
Looking Ahead
Twitter owner Elon Musk and Meta owner Mark Zuckerberg have a history of going up against each other — but this may be the boiling point. Two days following the launch of Threads, Musk sent a cease-and-desist letter that expressed "serious concerns" about "systematic, willful and unlawful misappropriation of Twitter's trade secrets and other intellectual property." (source6) Though Meta is piggybacking off of an existing social platform, as it has been known to do, the hope with Threads is that it creates a more positive and safe environment for users. Something that Twitter has struggled with since being acquired by Musk.
The growth of the app in such a short amount of time cannot be ignored. But it begs the question, will the current user base be consistent users of the app, or did they just download it to see what all of the hype is about? Our team hopes to see the app succeed with consistent usage and eventually the rollout of advertising. We could see it being a great extension of our existing paid Meta efforts. We are looking forward to seeing where Threads goes over the next few months, and more importantly if Musk and Zuckerberg duke it out in the cage.
Sources:
1Nasdaq, Meta Threads its Way to New Heights
2Complex, Social Media Platforms Reach
3NY Times, Threads: What to know about Instagram's 'Twitter Killer'
4CNBC, Twitter Traffic is Tanking
5Forbes, Threads Privacy6NY Post, Musk and Zuckerberg's Long History