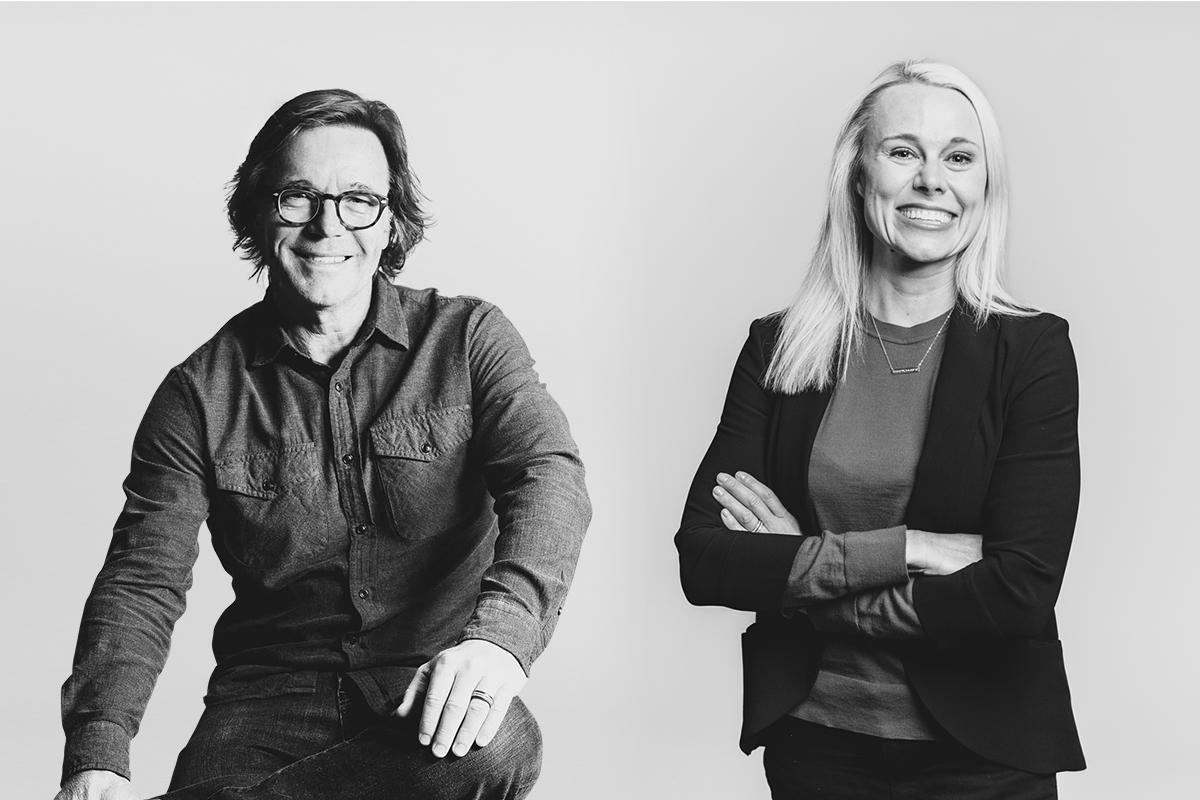 MINDY STOMP APPOINTED CEO – TO LEAD EMPLOYEE-OWNED AGENCY ALONG WITH PRESIDENT, JOHN DRAKE
Effective April 1, 2023, Drake Cooper announced the retirement of CEO Jamie Cooper and the appointment of Mindy Stomp as its new CEO. Joining the agency in 2006, Cooper was named CEO in 2007, growing the firm by more than five-fold in the years since.
In December 2020, Cooper sold the company to its employees under an Employee Stock Ownership Plan (ESOP) and in early 2022 brought in Mindy Stomp to serve as general manager and co-president along with longtime agency chief strategy officer John Drake. With the appointment of Stomp as CEO,Drake transitions from co-president to president.
"I feel very honored to have led the agency for 17 years, but it's time for a new spark of energy and ambition," said Cooper. "Mindy and John are the perfect combo to take us into the future and develop the agency to its full potential. Creating the opportunity for our employees to own Drake Cooper is the pinnacle of my career. I know the legacy Bill Drake started back in 1978 is in good hands.".
Drake Cooper's board of directors is composed of a majority of outside members, each with years of industry experience. Cooper will remain on the board, serving as chair.
Prior to Drake Cooper, Stomp spent more than 20 years in advertising and digital marketing at agencies both big and small, most recently at VMLY&R where her teams led efforts for clients such as Facebook/Meta, SKYY Vodka, Crystal Cruises, Driscoll's, Haas Automation, and Mazda. Since joining Drake Cooper, Mindy has been instrumental in agency growth and key client relationships. She was recently elected to serve on the board of directors for MAGNET Global, a worldwide community of independent agency CEOs.
"We worked very hard to find the right CEO to replace Cooper," said John Drake, president. "We were looking for that right person with deep industry experience who would respect our heritage and culture, while at the same time taking us to new heights. I am very excited to continue working alongside Mindy as we embark on the next phase of the agency's life cycle. My job as president continues in making sure the agency delivers highly effective and sought-after work that builds our clients' brands."
"It's a true honor to have the opportunity to build upon the incredible foundation at Drake Cooper," said Stomp. "We have passionate employee-owners who care deeply about our culture and our clients. Jamie has given us all a gift by making Drake Cooper employee-owned, and as we continue to focus on our people and our clients, we will also be building the value of each employee's stock."
Drake Cooper's motto is We Build Brands for the Ambitious. With ambitious plans of its own, the agency has notably moved into bigger markets, dominated by agencies much larger than itself. The agency has added larger brands to its roster in recent years, including ExtraMile, Chevron, Blue Diamond Almonds, Brookfield Homes, Nordic Naturals, and Challenge Butter. Additional client partnerships include some of the largest and most notable advertisers and marketers in Idaho, such as The J.A. and Kathryn Albertson Family Foundation, Idaho Central Credit Union, Your Health Idaho, CBH Homes, Bogus Basin, and 44 North Vodka.
---
About Drake Cooper
We Build Brands for the Ambitious. We look for and celebrate ambitious clients, partners, and team members. Drake Cooper increases the value of mid-market companies using advertising, media, digital content & technology, brand strategy, analytics, video & photography, and creativity. One of the few employee-owned agencies in the country, Drake Cooper is based in Boise, Idaho, and works with ambitious-minded clients throughout the US. drakecooper.com
About ESOPs
Employee Stock Ownership Plans (ESOPs) are qualified retirement plans that buy, hold, and sell company stock for the benefit of all employees, providing a real ownership stake in the company. An ESOP allows for a company's legacy to continue in its community through a closely-managed ownership transition that preserves the company's culture while protecting local jobs.
Up Next
Growing Use of Artificial Intelligence Artificial Intelligence (AI) continues integrating with our everyday lives and workspace. It's meant to help…