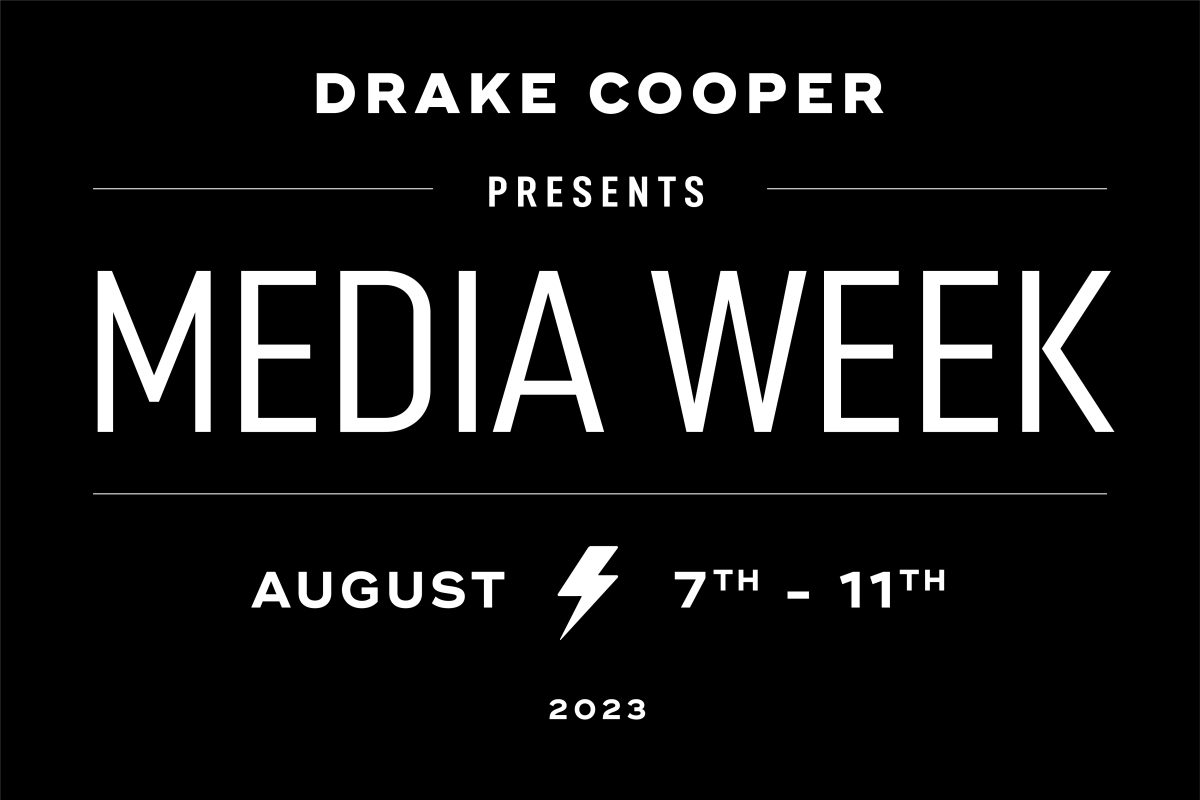 Remember the days in advertising when the magic of media was almost entirely made up of relationships? Remember how we were all on a first-name basis? Remember watching the upfronts in person? We miss those days. We miss the meaningful relationships with our partners that led to ambitious campaigns and amazing results for our clients. We miss knowing Angie's daughter's wedding was last weekend and we hope the cake turned out perfectly with just the right shade of blue to match her bridesmaid's dresses. Mostly, we miss you, our media partners. Because if it weren't for you, our client's campaigns wouldn't be seen.
So let's change that.
Drake Cooper is elated to host our first-ever, Drake Cooper Media Week. We are inviting YOU to Drake Cooper to have an IRL conversation on new innovative platform capabilities and ideate together on 2024 client proposals. We want to hear it all; how we can make our campaigns better, what's new and exciting on your platform, and how we can increase our clients' campaign performances. Let's bring back the media magic of togetherness with a side of life updates including pictures of your COVID puppies…Drake Cooper Media Week will take place August 7-11, 2023 at our Boise, Idaho, office.
When: August 7th – 11th
Where: Drake Cooper, 416 S 8th St Ste #300, Boise, Idaho 83702, or virtually
What: Let's catch up.
What are we not doing that we should be with you?
What's new and most exciting with you?
For specific client proposals for 2024, we will send you a list of clients and budgets to go over proposals and ideas
Current Attendees Include:
Disney
Zillow
Spotify
Pandora
If you're interested in participating in Drake Cooper Media Week, please email our Associate Media Director, Liesle Doggett, ldoggett@drakecooper.com.
TURN IT UP
If you're looking for places to stay, we recommend:
Our neighbor pick
Inn @ 500 | 500 S Capitol Blvd, Boise, ID 83702
Our boutique hotel pick (bonus points because their bar and restaurant are fabulous)
The Modern Hotel | 1314 W Grove St, Boise, ID 83702
Our tried and true pick in the center of downtown
The Grove Hotel | 45 S Capitol Blvd, Boise, ID 83702
If you're looking for places to eat, we recommend:
Our favorite lunch and dessert (helloooo butter cake)
Fork | 199 N 8th St, Boise, ID 83702
Our favorite mushroom toast and pizza (get the shroom toast mmmm)
The Wylder | 501 W Broad St, Boise, ID 83702
Our favorite Italian eatery (did someone say fresh pasta?)
Alavita | 807 W Idaho St, Boise, ID 83702
Our favorite Basque spots (Boise has a LOT of amazing Basque culture)
The Basque Market (think wines and lunch!)
Bar Gernika (croquettas… just trust us)
Leku Ona
If you're looking for some after hours fun, we insist:
Up Next
Drake Cooper was recently asked by the National Center for The Middle Market (NCMM) to provide their membership with thoughts as to how…